Bidding Pressure Washing Jobs – Why I don't compete for Government Work
Why bidding pressure washing jobs solicited by the government is a losing game. I'm going to share an experience I recently had when competing for a contract to soft wash the buildings, clean the windows, and pressure wash the concrete for several community college campuses here in Hampton Roads, Virginia.
My goal in sharing this with you is to raise the collective awareness within our industry to a higher level of understanding. Particularly when it comes to bidding pressure washing jobs for goverment exterior cleaning opportunities.
I understand there are numerous ways to price a job and for the most part I see consistency among professionals in my area. I feel that when it comes to commercial work however, you can't carry over a residential pricing structure, especially when the jobs are as large as a college campus.
I'm about to share my opinion so for what it's worth you can agree or agree to disagree. After the solicitation ended and the quotes were made public, I noticed that several companies truly low-balled their pricing.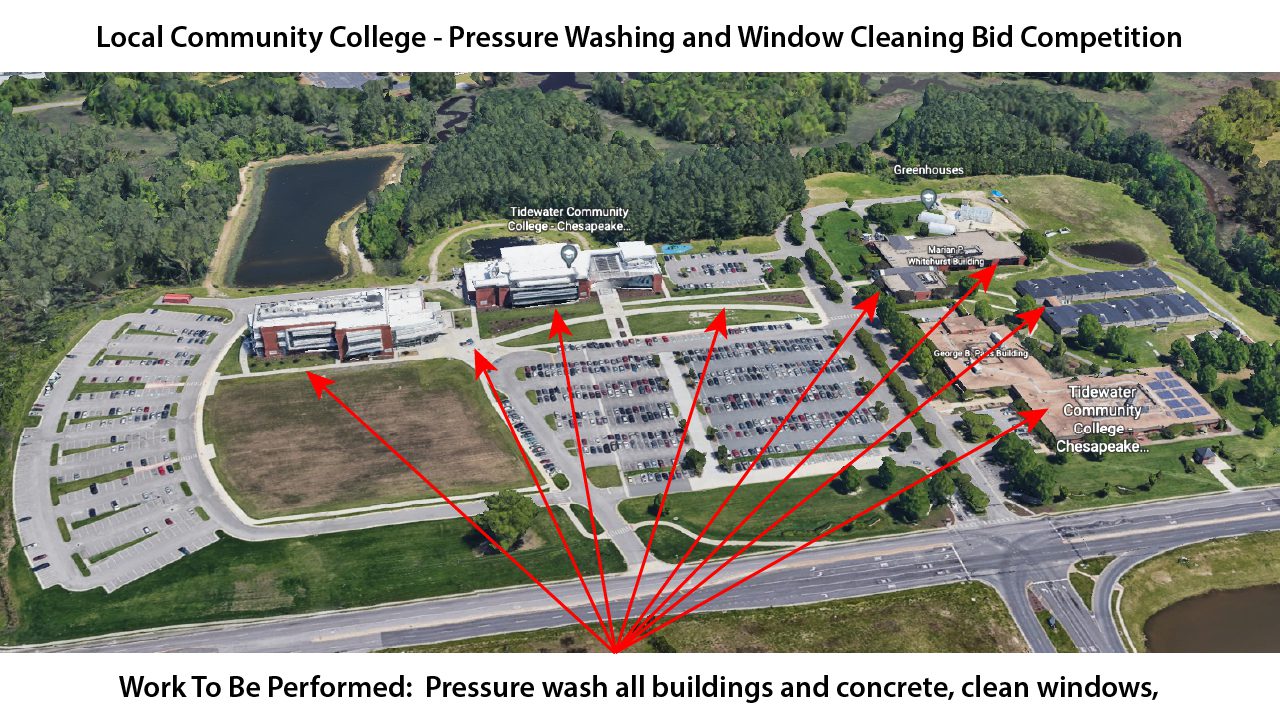 At the prices these contracts were awarded, I would have lost money bidding pressure washing jobs for this state owned community college. I understand everyone has different operating expenses and mine may be higher than a one-man operation. Regardless of that fact, these prices were WAY too low. We are cheapening the industry by offering to do the work at these low prices.
Having a mindset that doesn't take into consideration the profit that is due you affect the entire industry. It also shows you basically have a job and not a business. Using a low-ball bid strategy, you're simply working for the government and not yourself. You're a contractor and not a business owner.
Businesses pay their owners AND make a profit on top of that. This is why we're in business to begin with. This where some entrepreneurs run off the rails when bidding pressure washing jobs for government entities. They do not put enough value on the knowledge they've acquired through hours of study and experience.
They don't place the proper value on the risk they've taken investing their hard-earned dollars in gear, equipment, materials, marketing, or other administrative expenses.
There is a risk associated with government contracts. You must price this risk in and here it is… If you don't price government work correctly, you're still obligated to perform at the price you quoted.
If you make a mistake bidding on large contracts, it could be the one that puts you out of business. Best case is that you basically work for free or lose money in the process of completing the job.
Getting back to this competition and why I won't be bidding pressure washing jobs in the future. I thought I had a great chance to win several of these contracts since I worked for more than six years for a government contractor doing business development. I also have a thorough understanding of my pressure washing business model and what it takes to turn a profit.
If you've ever competed for government work, you understand there is a process that you must follow to be successful. Some are more complicated than others but overall, pressure washing contracts are straight forward.
Let's take a moment to run through a couple of these properties to analyze my bidding on pressure washing jobs process and then look at the end results of the competition. To see the rest of this post, watch the video at the top of this page. I'm going to run my bid process so you can see how I structured my bid.
For more information on Pressure Washing Prices pressure washing prices.
Click here for an Instant Quote
Or…
Give Neptune Clean a call today to get the pressure washing prices for your home
Neptune Clean: 757-384-0411