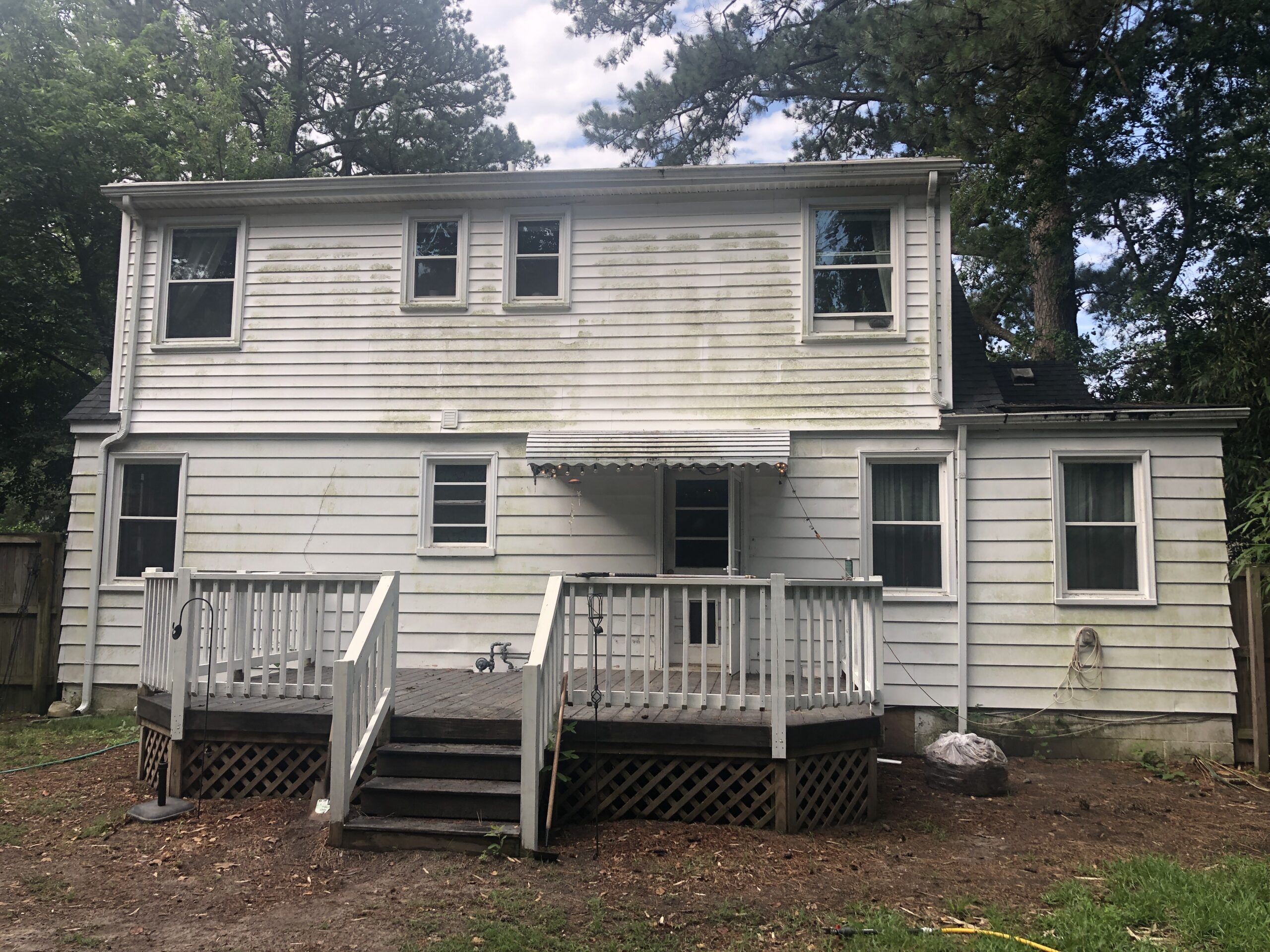 How to Clean Vinyl Siding
The great thing about vinyl siding is that it offers all the appeal of wood siding without the maintenance worries. More specifically, vinyl siding has the look of wood without the rotting, splitting, checking, cracking, and it won't attract insects. The Vinyl Siding Institute suggests you can keep vinyl siding looking new with periodic cleaning using mild soap and water from a garden hose.
As a professional cleaner I don't dispute that you can keep your own home clean using soap and water. Having said that, I can assure you that soap and water will not remove the blue / green algae that is common here in Hampton Roads Virginia. We have an extremely moist, humid climate which is perfect for algae and moss growth. If you want to understand how to clean vinyl siding in coastal Virginia, keep reading.
Another caveat to keeping your home clean doing it yourself with soap and water is that you must doing it regularly. If you want to prevent the algae growth that happens, you're must clean it monthly. At a minimum every other month. If you let it go for a year or longer, algae will grow, and soap and water WILL NOT remove it.
Human nature being what it is and homeowners being as busy as they are, cleaning your own home on a regular basis just isn't practical. That's where Neptune Clean can help!
DIY Best Practices on How to Clean Vinyl Siding
If you plan to wash your vinyl sided home using soap and water, think of it as washing your car. Use a soft cloth or ordinary long-handled, soft bristle brush. If your vinyl siding has a textured finish, the brush will do a better job to keep the grooves in the texture stain-free. Start at the bottom of your home and work your way up rinsing the cleaning solution completely before it dries. That's important, you don't want dried soap residue left on the siding. If you have any brick below the vinyl siding, cover it so that runoff doesn't affect the pores brick surface.
How to Remove Mold and Mildew
You can clean small spots of mold and mildew using common household cleaners. The problem with this is that these spots are usually higher up on gable ends of the home. You're going to need a latter so please use all safety precautions.
If you have a larger section, the Vinyl Siding Institute recommends a solution of vinegar (30%) and water (70%). You can use a simple pump-up sprayer to make application easy. If you like the easy button on how to clean vinyl siding, click here for an instant quote from Neptune Clean.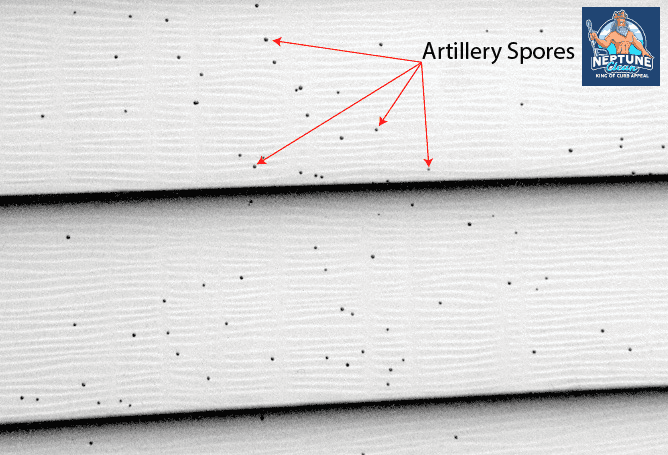 How to Remove Black Spots
If you have black spots on your siding near the bottom half of your home, you probably have what is called mulch residue caused by artillery spores. If that's the case, I've got bad news. There is no known cleaner that will remove it from siding. Artillery spores come from a particular fungus living in shredded wood mulch or other organic material around your home. The Vinyl Siding Institute recommends replacing the shredded wood mulch with bark mulch and then replacing the siding. Click the link for more information on artillery spores.
Using Pressure Washers
Many manufacturers of vinyl siding DO NOT recommend using pressure to clean vinyl siding. Water under pressure can be forced behind the siding wetting the subsurface and potentially causing damage. Be sure to check with the manufacturer of your siding to find out what they recommend on how to clean vinyl siding.
The Best Practice for Cleaning Vinyl Siding
If you want your home clean without all the hassle, call Neptune Clean. We use the Soft Wash method to apply a safe cleaning solution a low pressure to your homes surface. The pressure used to apply the cleaner and then rinse is no more than 60 PSI which is about twice the pressure of a garden hose.
We protect any electrical fixtures and any vegetation surrounding your home. We're fast, effective, and affordable.
Call Neptune Clean Today: 757-384-0411