Titan Hose Reel Unboxing and Guide Installation
Bill Seith here with Neptune clean. I wanted to take the time to share something exciting news. Well, it's exciting for me anyway. In the age of COVID supply chain struggles, I finally found a couple of Titan Hose Reels. I've been looking for some Titan Hose Reels for quite some time now with no luck. The COVID induced supply chain issues have made finding them a chore.
I had been looking for 18" Titan Hose Reels with no luck. Most suppliers will take your money and tell you it could be 6 months before you see them. I don't know about you but I don't want to tie up my working capital for that long.
So, you know what? I began to think of alternatives. Why can't I use 22-inch reels?  I'm upgrading my soft wash system and I want to put 300 feet of chemical hose so why not. After researching what it will hold, a 22-inch Titan Hose Reel is a perfect fit.
My thought process is that most pressure washing companies are looking for the smaller 18" model so I thought I'd call around for the larger one. Well, my persistence paid off and I found a couple of them at SprayerDepot.
I thought I'd share my excitement with a videotaped unboxing of the 22-inch Titan hose reel and hose reel guide. Since its winter here in Virginia Beach, Virginia I might as well install the hose reel guide and get them ready to be installed on the rig.
Titan Hose Reel with Guide and Stack Kit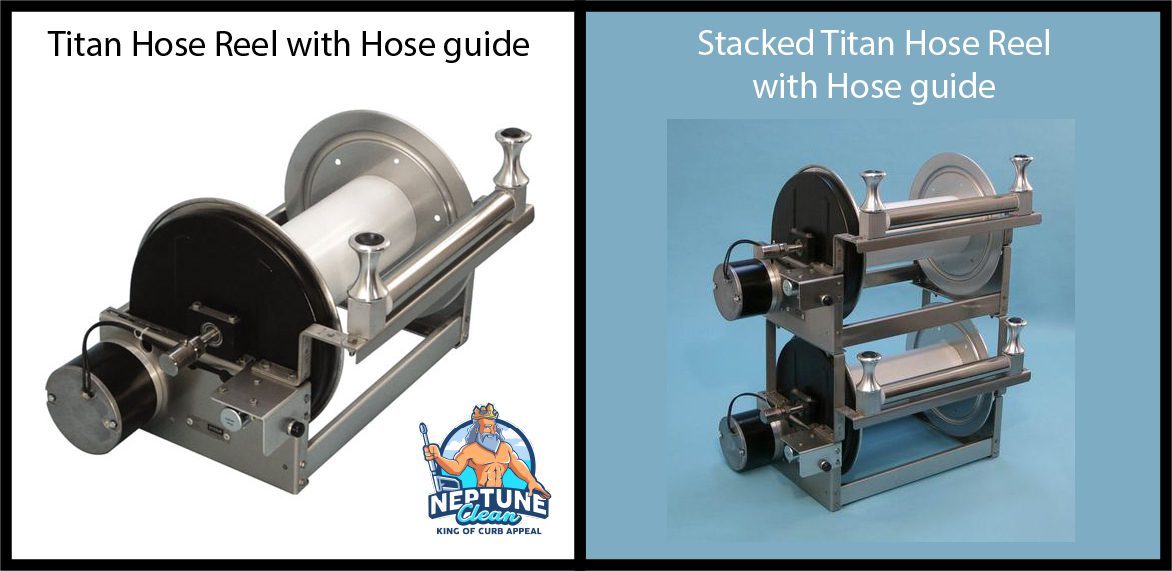 I'm also upgrading the soft wash system to a 11gpm 300psi gas powered soft wash pump. I'm taking off the Doug Rucker special, which has served me well. It's been a decent setup but I'm ready for the next level. The current soft wash system uses an air diaphragm pump, FlowJet pump with a small compressor from northern tool.
Since my goal is $55,000 a month in revenue this coming season, I'm going to throw the smaller soft wash system and my 4gpm pressure washer on a trailer and run with two rigs this summer.
So, these new hose reels are going to be great when combined with the more powerful gas soft wash pump. The 22-inch Titan Hose Reel can easily hold 300 feet of 5/8th inch chemical hose. That is more than we've ever needed to date so I think we're covered for future jobs.
This all-new setup with its 300 psi at 11gpm pump, is going to be a soft washing beast.
Getting back to installing the new Titan Hose Reel Guides. This is an easy install. There are two brackets that are bolted onto the hose reel and then the Titan Hose Reel Guide is bolted to the bracket
Purchasing the Titan Hose Reel Guides for my new reels was a bit of an ordeal. The first company I tried to purchase them from ended up not having them, so I went back to SprayerDepot.com and found the two I needed. I'm still waiting for a Titan Hose Reel Stack Kit so I can get the two reels stacked and mounted on the new F450 flat bed.
One thing I did want to show you though, are the differences in the mounting brackets. One side is longer and has a different bolt pattern than the other. It's easy to figure it out, just match the bolt pattern up to the holes on the Titan Hose Reel and then you're ready to go.
 You'll have to remove the two top bolts from where the push button switch is to install the left side bracket. Once you get both brackets installed, you're ready to bolt on the Titan Hose Reel guides.